 Lake Arrowhead's original premiere
gated community ...
Established in 1961 from the peninsula estate of aerospace pioneer & businessman Thomas Foster Hamilton, Hamiltair was planned with a community in mind. Wider roads, private community beaches, and a private boat launch (the only one on the lake) were key accommodations to the 103 properties specified.
Unique to the mountain area, Hamiltair maintains two white sand community beaches for the exclusive use of it's residents and guests.
You will find incredible North Bay & center lake views from each accordingly, as well as outdoor casual seating and immediate access to resident community docks.
Another unique mountain amenity, Hamiltair has the only private community Tennis club providing court access within it's gates.
With very modest annual dues for upkeep, the Hamiltair Tennis Club provides an amazing summer experience within walking distance.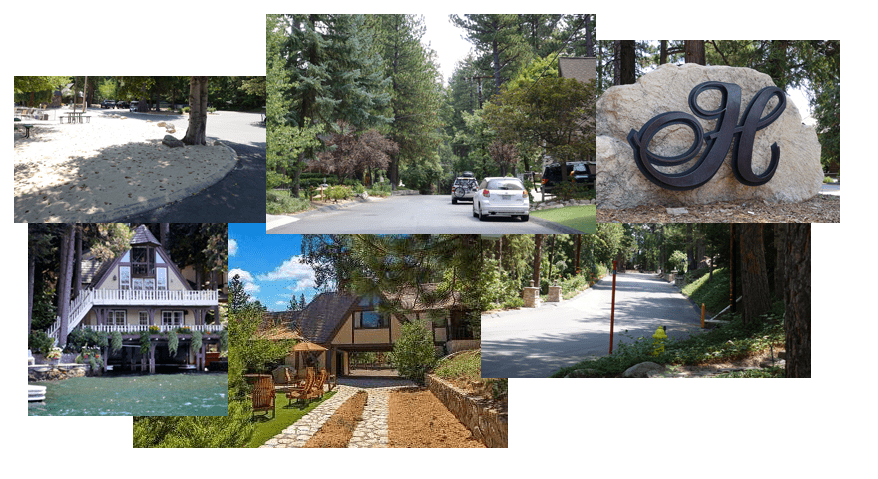 Aviation Pioneers, Celebrities, Professionals and CEO's ...
---
Hamiltair life provides a unique experience that has enchanted a wide variety of families & individuals since its inception. The combination of uncommon amenities & a private yet neighborly community, only extends Hamiltair's unique lakeside location nestled away from some of the elements while being central to all the lake's joys. From the all day Fourth of July festivities to the summers end Fishing Derby, Hamiltair aspires to combine quiet mountain solitude with the pleasures of mountain resort living at its best.
Although there are many exceptional homes and various gated communities on the mountain; from location, to community, to its history - you will find there is only one Hamiltair.
COMMUNITY
Privacy & casual neighborly events typifies Hamiltair.
A friendly resort living attitude seems to permeate residents, events, and experiences all year long.
LOCATION
Nestled in North Bay, natural protection from some of the elements, incredible views, and quick central access to Blue Jay, the Village, and Cedar Glen are unique to Hamiltair.
AMENITIES
The only community with a private boat launch, two white sand community beaches, and a tennis court/club combined with 24x7 security & concierge services.

INCEPTION - From the estate of Thomas Foster Hamilton once encompassing the entire peninsula, the Hamilton's residence (by the "Boat House"), stables facility (seen as you enter from the gate), and guest home (better known as "The Gatehouse" after it's original location at Hamiltair's current entry), formed the foundation for the master plan and creation of Hamiltair in 1961. From these original homes designed by the historic & prolific Southern California architect Paul Williams in the late 1930's through 1940, to the subsequent master plan and initial new homes in the 1960's, Hamiltair deigned to create both community and an exceptional mountain home experience that remains to this day unique to the area.
WHOM - Thomas Foster Hamilton, a pioneering aviator, was the founder of the Hamilton Standard Company, introduced one of the earliest all metal aircraft with then designer James McDonnell (later McDonnell Douglas aircraft), introduced Frank Caldwell's revolutionary variable pitch propeller, built the iconic Burbank airport, helped William Boeing (a life long friend) start his aviation business, and was a driving force in creating the Lake Arrowhead Yacht Club.
RESIDENTS - Lake Arrowhead, having been a focal point for Hollywood and various notable businessmen from Southern California since not long after its inception, has seen Hamiltair prove equally prolific over the decades. Entertainers, comedians, actors, musicians, celebrities, land developers, jet aviation founders, businessmen, professionals, and a bit more have all called Hamiltair "home" at various times - as many do today. It is with great pleasure long time residents can confirm a humble, neighborly community transpired regardless.
HAMILTAIR & POINT HAMILTAIR - Often confused even in books covering the history of Lake Arrowhead, Point Hamiltair is an exquisite gated community that was developed later in the 1970's by a real estate developer and resident of Hamiltair. The original intent was to expand the opportunity for others to also share in even a portion of the Hamiltair mountain experience. As multiple developers later engaged Point Hamiltair's development, the direction and character of Point Hamiltair is somewhat different adding to the incredible variety Lake Arrowhead provides.
Lindbergh in front, Fred Weick rear, Thomas Hamilton standing.